Where to stay in the Coorong ? We recommend the Blue House!
Where to stay in Meningie? The Blue House with its forever sunsets!
If you are looking for where to stay in the Coorong. The Blue House is one of our favourite choices!
The Blue House is Located in Meningie, overlooking Lake Albert. The Blue House boasts nothing but beautiful lake views and gorgeous sunsets to complete your perfect stay.
The spacious holiday home sleeps up to ten people and offers a BBQ in the backyard.
If this sounds like your ideal recipe for friends or family weekend away, you might like to know that;
The Blue House
The Blue House offers a range of essential features:
● Off-street parking for 6 cars
●Unlimited free internet
●A fully equipped kitchen and an outdoor and living area
●Wheelchair accessible
●24-hour concierge service
●Sleeping up to 10 people
●A full front balcony
●Heating and air conditioning,
The best sunset in Meningie!
Every night the Blue House has the front row seat for the most memorable Meningie sunsets you will ever see. The balcony at the Blue House provides just what you need, with chairs and tables and a clear view to sit, unwind, and watch.
Picture you, your family, and your friends across the deck enjoying the setting sun after a day of exploring the Coorong. What a time to be alive!
The Blue House is set at the perfect angle to get quality pictures of the sunsets. But even pictures don't do enough justice to the sunsets. You may be able to keep them forever, but you need to be at the Blue House witnessing them, making them more memorable.
Ten things to do in Meningie!
And while you are staying at the Blue House, you might like to explore! Here are our (Coorong Realty team) top ten things to do in Meningie.
1. Lions Walking Trail
The Lions Walking Trail is one of the most popular walking trails in Meningie. The trail leads you through diverse flora, fauna and native animals to the Meningie Hill lookout. It is located at the end of Bowman Street to the right of the road. It is 3.5kms one way and usually takes a 1-3hours to complete. The trail is suitable for walking, hiking and trail running and has been classified as a manageable level.
The Meningie Lions Trail is an excellent escape from the busy reality of being surrounded by 40 native plants that can be found in spring.
https://bit.ly/3RdO8cp to find out more
2. Kayaking & Canoeing
Kayaking and Canoeing in the Coorong region are hugely popular! It is such a fun way to experience life from the water. Kayaking and Canoeing keep you fit, which is also a plus! You can see bird, water, and land life in a way that is no other.
Bring your own kayak or join a Canoe the Coorong tour. Tours includes the Storm Boy inspired to tour, Bird-watching Romantic Sunset tour, 4day expedition and Team Building. You can find how to book and pricing here https://canoethecoorong.com/
3. Explore the Coorong National Park
The Coorong National Park is full of hidden places to explore, which include
● 42 Mile Crossing – A beautiful family adventure four-wheel driving over the beach or a hike!
●Parka Point Campgrounds – A unique country campground
●7 Mile Road-A loop Road leading to all sorts of Coorong adventures and a little community
•Tea Tree Crossing- Perfect for beach and camping trips any time of the year!
●Pelican Point – A perfect place for a day trip to see the fantastic wildlife scenery.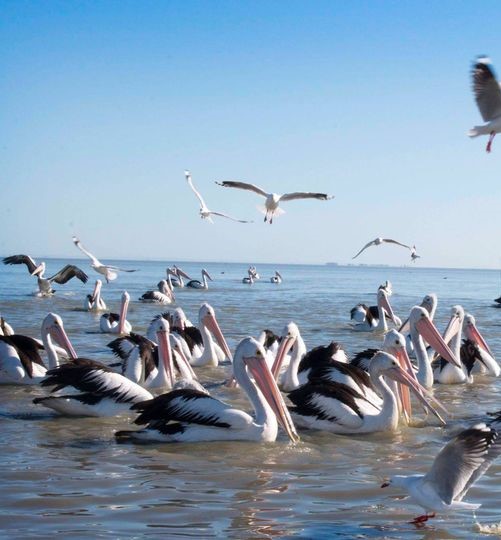 ●Godfreys Landing – A great campground to stop setup and rest!
●Long Point - If you are a fan of birdlife, this is a must-go stop!
●Jack Point – A place to walk through the dunes to view the Pelican Breeding islands.
● Chinamans Well- A piece of history that is worth seeing!
More information on how to get there and what is offered at the places here https://bit.ly/3ykj6Hl
4. 4WD tours
Four-wheel driving is a very popular activity to do in the Coorong region. Some spots can only be accessed by four-wheel driving, include in 42 Mile Crossing and Tea Tree crossing. Four-wheel driving is an excellent adventure for people of all ages.
More on https://bit.ly/3bVKeVm Even what to do if you get bogged!!
5. Pink Lake
Located on the Princess Highway, 5 minutes from Meningie, heading to Tailem Bend, you can't miss the stunning Pink Lake. It Is one of Coorong's famous tourist attractions. And why is it pink? The sediments in the water cause the pink colour, which gets stronger at different times of the year.
6. Visit the Raukkan Aboriginal Community and the home of the $50 note.
Rakkuan is located on the banks of Lake Alexandrina in Narrung, and Rakkuan is a small community full of history.
Rakkuan is also known for being the birthplace of David Unaipon. David Unaipon is the inventor and author whose image and along with the famous mission church located in Rakkuan, is on the $50 note. This is a must-see photo opportunity. You and your family outside this famous church.
Imagine knowing you have explored the place where the famous David Unaipon was born and lived a life in Rakkaun!
7. Fishing on the Great Southern Ocean
Fishing is a major attraction to the Coorong Region and many families fish for career or recreational purposes. Tea Tree crossing is the best summer fishing spot, and 42 Mile Crossing is the best spot for the winter. Mullet is the most popular fish catch and cook! Mullet has a distinctive sweet taste. It is very high in omega 3. It can be eaten with salads or vegetables it is a very versatile meat.
8. Take a tour of the Wildside
Coorong Wildside is another tour experience offered in the Coorong region by Tracey and Glen Hill. They offer Seabird and Seals tours, Sandhill Explorer, and Seafood Factory Tour on https://bit.ly/3nI6C7n . These tours are a fantastic way to learn a fisherman's perspective of the Coorong and what goes on in the area. And as a bonus, you get to taste fresh fish as well!
9. Visit Point Malcolm
Point Malcolm Lighthouse is a piece of history worth visiting, located in Narrung. The lighthouse was built in 1878 and is Australia's only inland lighthouse.
How cool is it that we live near this famous piece of history? There are lots to explore around the Narrung area, like the 'Keepers" cottage next to the lighthouse.
10. Visit Chinamans Well
Chinamans Well is located on the Princess Highway 30 minutes from Salt Creek, within the Coorong National Park. Now, this is a piece of history!
CHINAMANS Well includes a 900-metre circuit and can take up to an hour to hike. It is classified as an easy trail grade which widens the suitability for any age. Follow the trail to the Chinaman's Well historic site to find the treasure.
Further information on https://bit.ly/3NQr2FY to learn more about the gold rush.
Where to eat in Meningie?
The Meningie Hotel
Fancy a typical country pub meal? Meningie's Hotel is on the main street. They, of course, offer classic meals like a chicken schnitzel or always have a delicious special. And if your one to socialize, this is the place to be. Locals are always friendly and always up for a good laugh.
Freshies Cafe and Bar
Freshies Cafe and Bar offer significant seasonal events from live music, Jukebox and special nights, accommodating travellers staying at the Lake Albert Caravan Park. The food is unforgettable, and their customer service is very welcoming.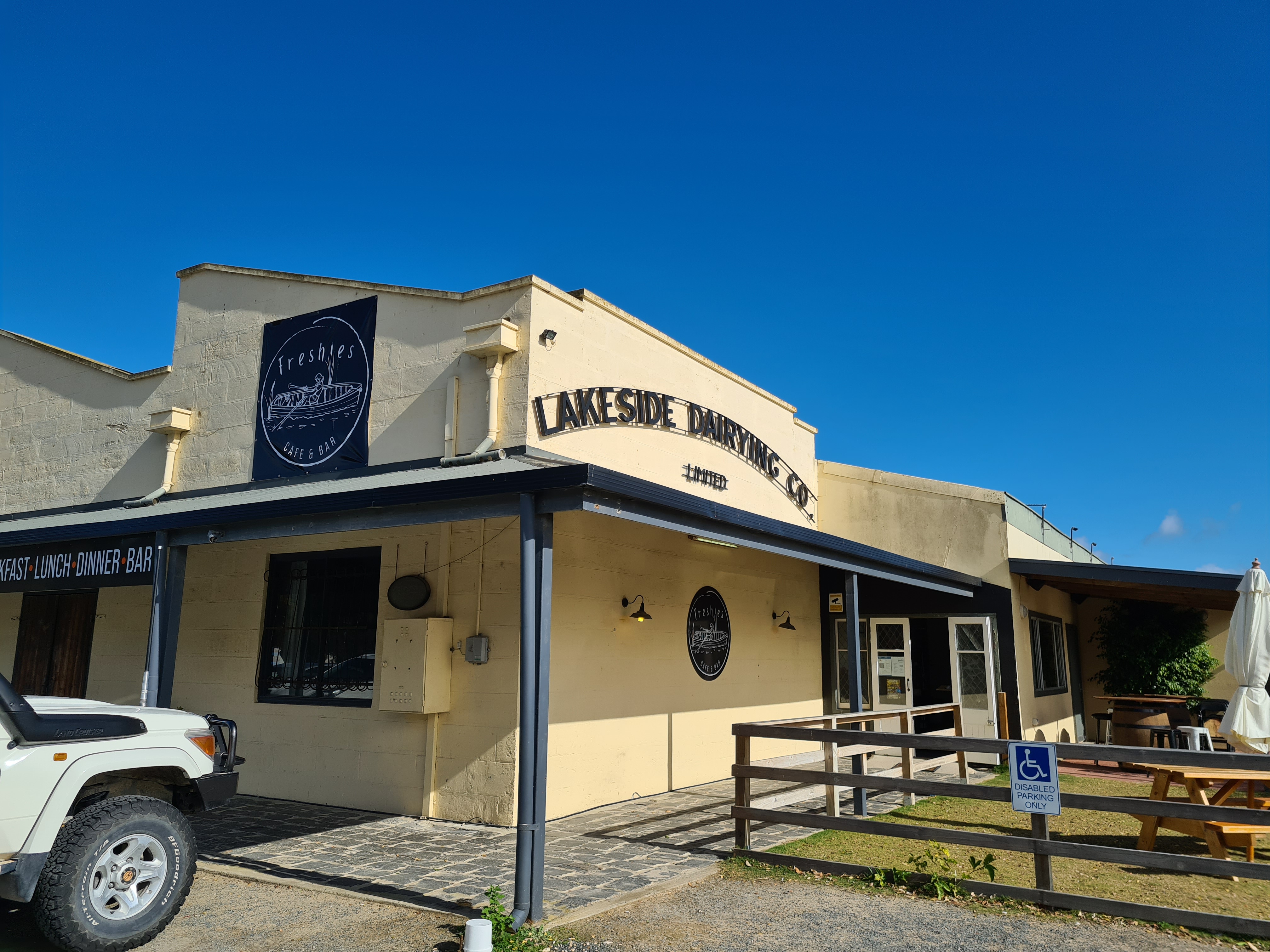 Next door to Freshies, the building was well known as The Cheese Factory. They still offer a museum that holds old artefacts from the Cheese Factory and around town. Here you can wander around and take a step back into the history of Meningie.
The Meningie Bakery
What's a Coorong stay without a country pie or pastie? The Meningie Bakery is another top place to eat in Meningie! With freshly country-made pastries and sweets at your fingertips. Make sure to get in early as the food flies out the door at the Meningie Bakery. It is on the Main Street of Meningie near the Hair and Beauty Nook Salon.
Lakeview Café
If you're after anything, takeaway Lakeview Café has you sorted. Are you stopping through Meningie? Need something quick? Lakeview Café is perfect. Located on the Mainstreet of Meningie, which is excellent as you can enjoy your takeaway across the road in the park or look at the shops. They offer to dine in and take away, and their breakfasts are to die for!
But don't just take it from us, the team at Coorong Realty! Ask Helen!
Helen and Shane Atkins purchased the Blue house in August 2021. Since then, they have renovated and refreshed the property.
Helen and Shanes have been coming to Meningie and attending the Lake Albert Caravan Parks on June's long weekend for the past 15 years. They loved it so much that they also invested their hard-earned cash here, and Helen and Shane eventually wanted to retire here.
"The Blue House is decorated in tranquil neutrals, with everything you need for a relaxing stay. Even on cold blustery days, you can sit on the lounge and look out over the lake, and it's just magnificent to watch the storms, sunsets and bird life. In the summer, the lake is perfect for exploring by kayaks and even swimming. We love how friendly Meningie is, and there is plenty to do, every time we stay," stays Helen.
Where to stay in the Coorong?
But if the Blue House doesn't fit your needs, no problems, you might be interested in some other Coorong options like:
Limestone Ridge
Limestone Ridge is a large, family-sized holiday house with a spacious deck overlooking the river Murray at Tailem Bend. The Limestone Ridge Sleeps up to 16, Limestone Ridge will suit any size family or a group of couples that love to experience the wildlife, fishing, boating, and skiing that come with a break on the River Murray.
To book and get in contact https://bit.ly/3ai0tM9
Wellington Lake Retreat
Wellington Lake Retreat is a place to relax with friends and family. Wellington Lake Retreat at Wellington East is a stylish home away from home. With a cracking floor plan that features multiple living areas, four bedrooms, all with private ensuites, and full wheelchair access with a disabled bathroom, you can accommodate all your guests.
You get to enjoy the lake views from the sheltered deck and appreciate the space of the boat ramp just minutes away.
To book or get in contact https://bit.ly/3aesa8N
Barefoot Waters
Located one hour from Adelaide at placid Estates, this property is perfect for the boating family and your next river holiday. With front-row seat river views from the house, you and your friends can spend the weekend in pure comfort with a newly renovated kitchen, bathroom and living areas.
Barefoot waters feature a large patio area with extensive river views, you can keep an eye on the fun below – or sit back and enjoy the warmth of this charming character home.
To book or get in contact https://bit.ly/3unAIRx
How can we help you with your holiday??
Tracey Seymour, our Holiday rental expert, is an award-winning hospitality management professional with a 30-year career in high-end tourism. Tracey brings her passion for the region into every aspect of her job at Coorong Realty. Day to day, Tracey works with our holiday guests, property owners, cleaners, and tradies to ensure that every stay is perfect. As a local for the past 20 years, Tracey's love of the region is reflected in her colourful descriptions of holiday rental options.
As locals, the rest of our team, Adam, Luke, Nicki, Kerry and Tiarnie, can also assist in giving guidance and advice on where to stay, what to do and what to eat in the Coorong region. We also know all the hidden secrets and adventures in the Coorong; get in contact to find out more at 08 8572 4555 or our website https://bit.ly/3url1sq
Are you interested in buying or selling real estate in the Coorong?
Our team comprises locals and locals who live, work and play in the region. And we staff with years of experience in property management, rentals, sales and holiday rentals. We also provide consistent, up-to-date information about what is happening around Meningie or upcoming events.
Contact Coorong Realty, our team are the locals who know the hidden secrets of the Coorong.
We can guide you if you're staying in Meningie or the Coorong area on what to do in Meningie, where to stay and where to eat. Reach out to our Holiday Concierge, Tracey Seymour, on 0488724155 or email [email protected]
Tracey loves holidaying with a passion, and she can help you map out the perfect escape with the available options at Coorong Realty Holiday Rental.