What to eat in the Coorong? We have got you covered!
Here is everything you need to know about where to eat in the Coorong!
The Coorong region is filled with amazing foods and are home to many local businesses who produce unforgettable foods. These country businesses are unlike no other. So try them out for yourself.
Little local café
Little local café is a thriving coffee shop on Railway Terrace in Tailem Bend. They provide hot, smooth, and creamy coffee and decadent cakes. They provide high-quality services with a friendly welcoming. It always smells amazing when you walk in there as well! Call 0428596045
Riverside hotel
Ahh, Tailem Bend riverside hotel. The place to be, eat and relax! It is located on Princess Highway in Tailem Bend. Their opening hours are 10-1 am every day. They have your lunch and dinner sorted for whatever occasion! They also offer a great social club to get involved in. Call 0885723655
Tailem Bend Bakery
Tailem Bend Bakery is located on Railway Terrace Street. They are most known for their amazing pies! And sweets. It is a great little place to take your family for breakfast or lunch! They cater to many dietary requirements such as various bread, gluten-free, vegan and salad options. It is open from 7.30-3.30 on weekdays and 8.30-1 pm on Saturdays and Sundays. Call 0885723603
The Mainstreet Pub
The Mainstreet Pub is another great place to feast. It offers classic pub meals and a drive-in bottle. The locals are friendly and always up for a laugh. The opening hours are 11 am- 10 pm every day. It is a great place to go and socialize or have lunch. There is outdoor seating, so perfect for those summer and spring seasons. Call 0885723515
Meningie
The Meningie Hotel
The Meningie Hotel Fancy a typical country pub meal? Meningie's Hotel is on the main street. They offer classic meals like a chicken schnitzel or always have a delicious special. And if you like to socialize, this is the place to be. Locals are super friendly and always up for a laugh. Call 0885751007
Freshies
Freshies also offer seasonal events from live music, Jukebox and special nights, accommodating travellers staying at the park. Their food is unforgettable, and their customer service is very welcoming. Before Freshies, the building was well known as The Cheese Factory. They still offer a museum that holds old artefacts from the Cheese Factory and around town. Here you can wander around and take a step back into the history of Meningie. Call 0885751914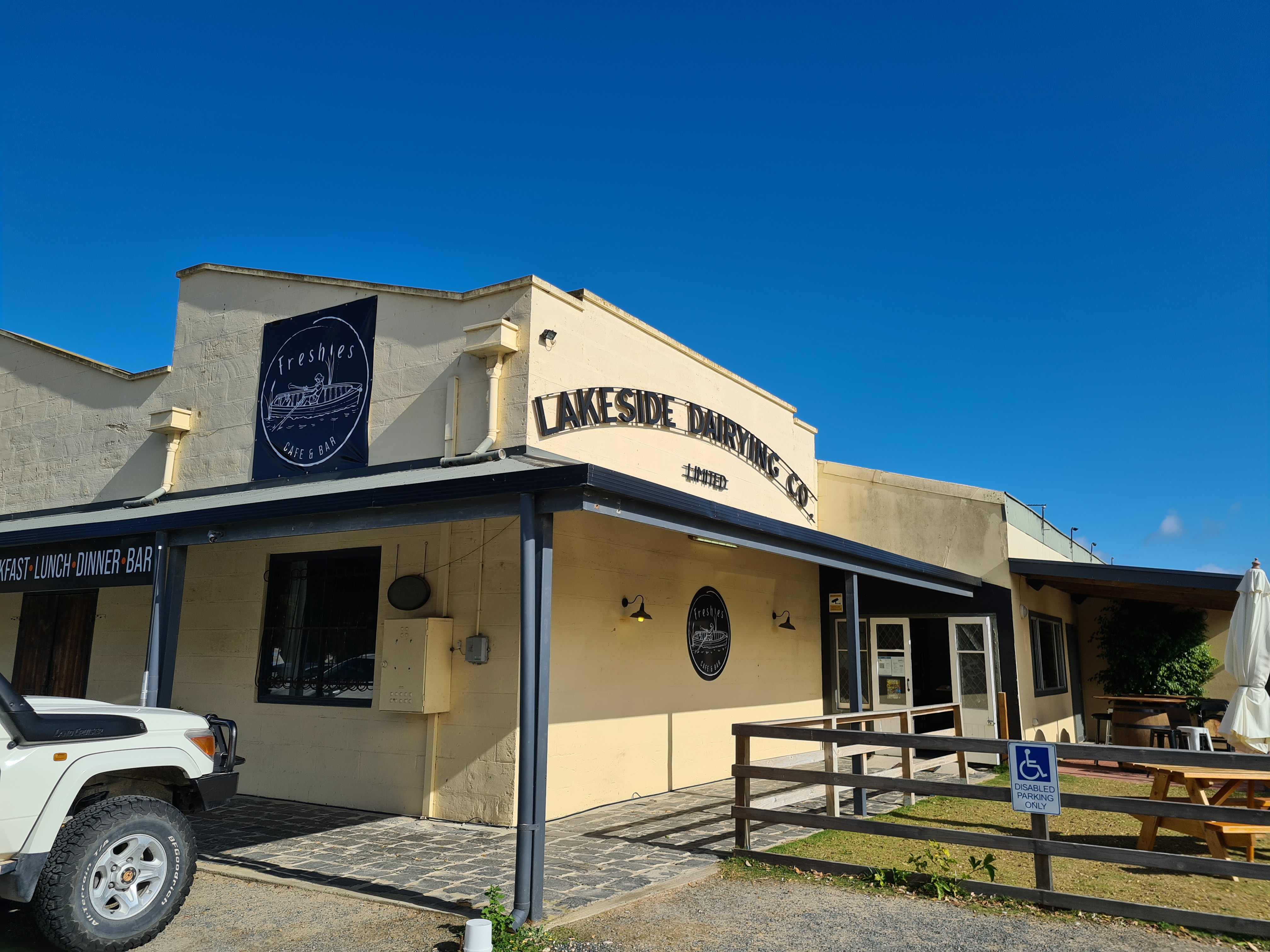 The Bakery
What's a Coorong stay without a country pie or pastie? The Meningie Bakery is another hit place to eat in Meningie! With freshly country-made pastries and sweets at your fingertips. Make sure to get in early as the food flies out the door at the Meningie Bakery. It is on the Main Street of Meningie near the Hair and Beauty Nook Salon. Call 0885751016
Lakeview Cafe
If you're after anything, takeaway Lakeview Café has you sorted. Are you stopping through Meningie? Need something quick? Lakeview is perfect. Located on the Mainstreet of Meningie, which is excellent as you can enjoy your takeaway across the road in the park or look at the shops. They offer to dine in and take away, and their breakfasts are to die for! Call 0885751082
Wellington
Wellington Pub
The Wellington Pub is an absolute cracker of a place and offers the best chicken schnitzel in town! It is located on the river across the Wellington ferry and is only a 25-minute drive from Murray Bridge. They provide dining and takeaway services and have games and a pool table to keep the family entertained. No matter what season, it is always a good time. Call 0885727206
Bridgeport Hotel
If you are staying in Wellington, the well-known town Murray Bridge is only a short 25-minute drive from Wellington. The Bridgeport hotel opened in June 2021 and has become a trendy place to dine. Their menu consistently changes depending on the season, and the menu is filled with South Australia's best food, wine, and beverages. So, every dish is always fresh and new! Call 0885322002
Imperial Chopsticks
Imperial Chopsticks is in Murray Bridge. It offers impressive dishes full of flavours. They provide various options, including banquets and lunch and dinner menus. If you want a cultured-infused place to dine in or takeaway, this is the place to be. Call 0885311539
Riverscape Restaurant
The Riverscape Restaurant offers beautiful river views and freshly cooked meals, and it is an excellent place for a Sunday lunch or a family dinner. The Riverscape restaurant is ideally located near Sturt Reserve playground and skatepark, which keeps the kids entertained. Call 0885310855
Coonalpyn
The Coonalpyn Pub
The Coonalpyn pub is an old and classic place to eat. Many locals attend dine-in or takeaway, famous for travellers travelling through. It is a great pitstop place. And being one of the only where to eat places in Coonalpyn, it is a hit! Their schnitzel nights topping range is unlike others! It is located on the main road of Coonalpyn. Call 0885711006
Waffles and Jaffles
Waffles and Jaffles are the absolute highlights of Coonalpyn. They are located on the main road of Coonalpyn. It is open every Friday, Saturday, and Sunday, perfect for those weekend travellers. They offer sweet and savoury topping options, smoothies, and toasties. How good is that! We have not heard one bad thing about this place. Thy is known for excellent customer service and high-quality foods. Call
Tintinara Hotel
Tintinara is another small country town with plenty to offer. With only a short drive from Coonalpyn if you are staying in Coonalpyn. The most popular place to stop and eat is the local Tintinara Hotel. Ahhh, nothing beats that classic country feels. What more could you want! They're always on point with their steaks. So, if you are a steak lover, you must go here and test them for yourself! Call 0887572009