5 Reasons to Invest in Meningie!
5 Reasons to Invest in Meningie!
We are completely biased, and proud locals, but we think that Meningie is an emerging investment hot spot.
#1. Lifestyle
If you love the outdoors, the ocean, the water and nature, then Meningie is the place for you.
Located at the head of the Coorong, a wetland of international significance, we are lucky to enjoy a mild climate and year round access to water.
#2. Community
Meningie is a place where you can truly be 'part of the community'.
Home to a Hospital, Doctor Surgery, Area School, Child Care Centre, Kindergarten; this is a country town that can boast that we 'have it all'.
#3. It's Interesting
Meningie is in a truly special part of the world. Living at Meningie, your neighbourhood includes access to spectacular waterways, wineries, #The Bend (SA Motorsport Park), Adelaide and Melbourne.
#4. Environment
The Coorong and Lakes Alexandrina and Albert waterways are one of Australia's most important wetland areas. The Coorong is a long, shallow saline lagoon that stretches more than 100kms that is separated from the Southern Ocean by a narrow sand dune peninsula.
#5. You can afford it!
Imagine living waterside, year round, with walking trails and space for kids? Sounds expensive?
Not at all! At Meningie, lower development costs and country pricing means that land is affordable for investors, families and retirees alike.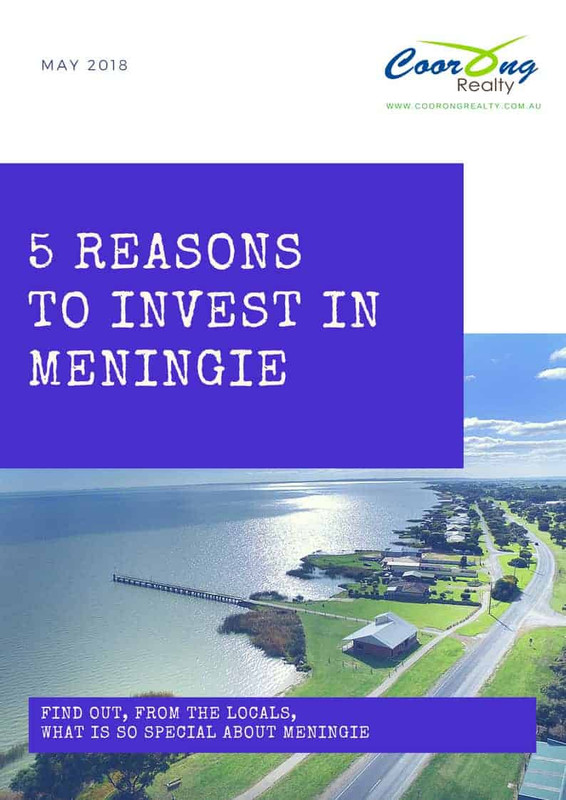 Here is some more detail on why we think there are 5 Reasons to Invest in Meningie or just ask us!